This section has information about back pain for patients, training opportunities and links to further evidence based tools for practice.
You can access these resources by scrolling down this page and selecting the resource you require from the buttons below.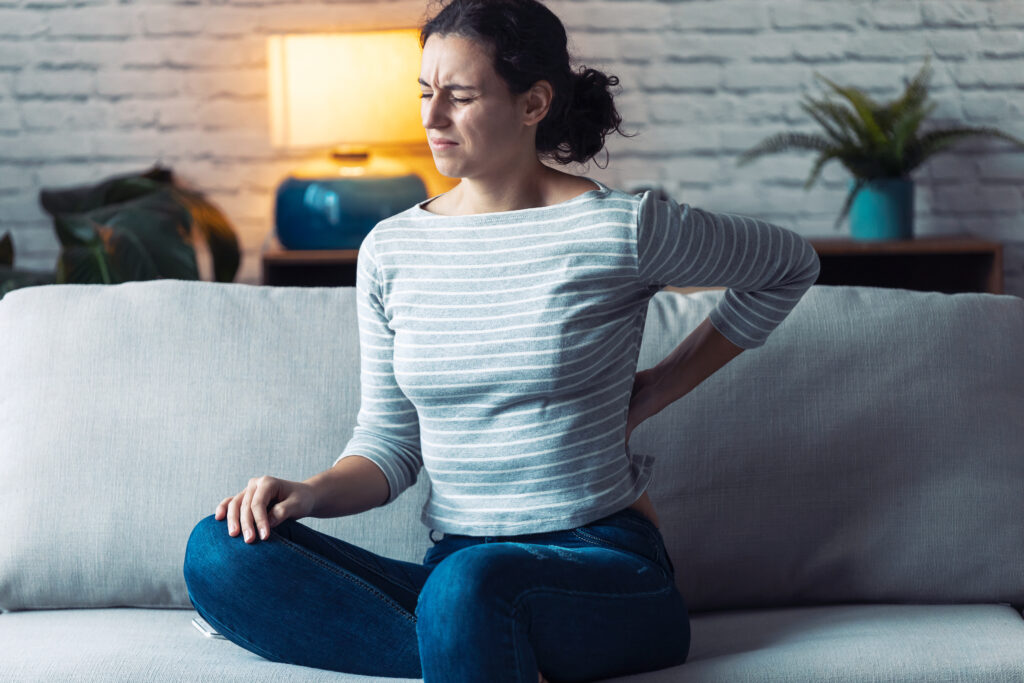 Meet patients with back pain in the following videos, hear their stories and how they have copied with their condition
This leaflet was developed by patients, for patients, with academics and clinicians and Keele University.
It answers the most frequently asked questions about back pain.
It is well known that back pain can be a considerable problem for some people, with great costs to them individually and to society as a whole.
STarT Back is an approach which is carried out by your healthcare professional and matches patients to treatments using a simple tool to match patients to treatment packages appropriate for them.
Keele University Impact Accelerator Unit offers Free online training for clinicians around the STarT Back approach. You can access the training on the top right hand corner of the STarT Back website – STarT Back – Evidence Based Implementation of Stratified Care (keele.ac.uk)
Part 2 of this training is delivered face to face or over MS Teams at various times of the year. There is a cost associated with this part of the training. For more information, contact health.iau@keele.ac.uk
Startback Consultation Videos
This is an online version of the STarT back questionnaire, which automatically calculates the STarT Back score.
STarT Back is available in many different languages. You can download these below.
Nadine E Foster, Johannes R Anema, Dan Cherkin, Roger Chou, Steven P Cohen, Douglas P Gross, Paulo H Ferreira, Julie M Fritz, Bart W Koes, Wilco Peul, Judith A Turner, Chris G Maher, on behalf of the Lancet Low Back Pain Series Working Group, Prevention and treatment of low back pain: evidence,challenges, and promising directions
Hill JC, Vohora K, Dunn KM, Main CJ, Hay EM. Comparing the STarT Back screening tool's subgroup allocation of individual patients with that of independent clinical experts. Clin J Pain. 2010 Nov-Dec;26(9):783-7. doi: 10.1097/AJP.0b013e3181f18aac. PubMed PMID: 2084 2014. 2 star
Hill JC, Whitehurst DG, Lewis M, Bryan S, Dunn KM, Foster NE, Konstantinou K, Main CJ, Mason E, Somerville S, Sowden G, Vohora K, Hay EM. Comparison of stratified primary care management for low back pain with current best practice (STarT Back): a randomised controlled trial. Lancet. 2011 Oct 29;378(9802):1560-71. doi: 10.1016/S0140-6736(11)60937-9. Epub 2011 Sep 28.PubMed PMID: 21963002; PubMed Central PMCID: PMC3208163. 4 star
Main CJ, Sowden G, Hill JC, Watson PJ, Hay EM. Integrating physical and psychological approaches to treatment in low back pain: the development and content of the STarT Back trial's 'high-risk' intervention (StarT Back; ISRCTN 37113406). Physiotherapy. 2012 Jun;98(2):110-6. doi: 10.1016/j.physio.2011.03.003. Epub 2011 Jun 12. PubMed PMID: 22507360.
Whitehurst DG, Bryan S, Lewis M, Hill J, Hay EM. Exploring the cost-utility of stratified primary care management for low back pain compared with current best practice within risk-defined subgroups. Ann Rheum Dis. 2012 Nov;71(11):1796-802. doi: 10.1136/annrheumdis-2011-200731. Epub 2012 Apr 4. PubMed PMID: 22492783; 3.5 star
Foster NE, Mullis R, Hill JC, Lewis M, Whitehurst DG, Doyle C, Konstantinou K, Main C, Somerville S, Sowden G, Wathall S, Young J, Hay EM on behalf of the IMPaCT Back Study team (2014). Effect of stratified care for low back pain in family practice (IMPaCT Back): a prospective population-based sequential comparison. Annals of Family Medicine, 12(2): doi: 10.1370/afm.1625 [5.355] 4 star
Hill JC, Afolabi EK, Lewis M, et al Does a modified STarT Back Tool predict outcome with a broader group of musculoskeletal patients than back pain? A secondary analysis of cohort data BMJ Open 2016;6:e012445. doi: 10.1136/bmjopen-2016-012445
Kongsted A, Kent P, Quicke JG, Skou ST, Hill JC. Risk-stratified and stepped models of care for back pain and osteoarthritis: are we heading towards a common model? Pain reports. 2020 Sep 23;5(5):e843.
A report by Public Health England determined that there is an estimated net saving of £21.07 per patient when implementing the intervention and a positive ROI from a healthcare financial perspective of £10.58 for every £1 spent on the intervention.
When QALY gains are included, this increases to an estimated return of £90.92for every £1 spent and when days of work saved are also included, this increases to an estimated £226.23for every £1 spent.

You can read and download the full report here